Sorry this month's update is so late! It's been a very busy couple of weeks, getting ready to go to Arkansas for our niece Amber's wedding. We're very excited about getting to go! We haven't been back to Arkansas since we moved here December 1998!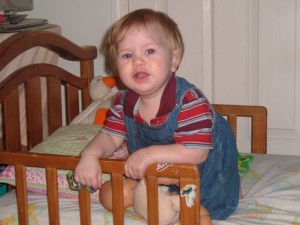 We got Sarah a toddler bed. It is cute, and she seems to like it– to play in, at least. She has napped there a few times, but isn't quite ready to sleep there alone yet.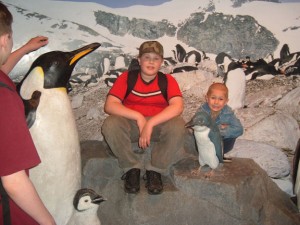 At the beginning of May, we took advantage of our Tennessee Aquarium membership. We enjoy looking at the butterflies, fish, penguins, jellyfish, and other creatures. God's handiwork is so amazing!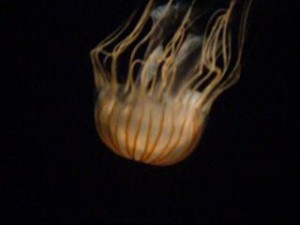 The jellyfish are difficult to capture in a picture because of how the flash shines on the glass, but videos work– this is a frame extracted from a video I took of it.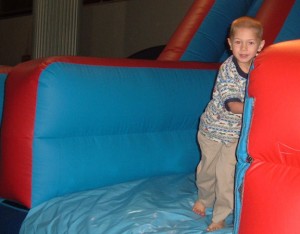 On May 15th, the science museum to which we have a membership had a special day for members. We took advantage of this, as well. They had a big inflatable slide there that John Luke greatly enjoyed! Especially since there wasn't a line of kids waiting, so he got to go on it over and over without waiting.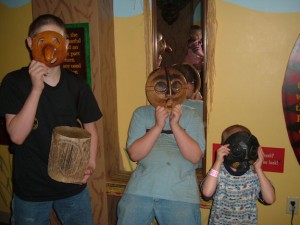 While we were in Huntsville, we went by the EarlyWorks complex. They have some really neat stuff there! The boys had fun trying on masks. Most of the kids had the most fun in the room made for the youngest kids – where they had things like make-believe items, costumes, a water trough with toys (Sarah Ruth LOVED that one!) and some other neat things.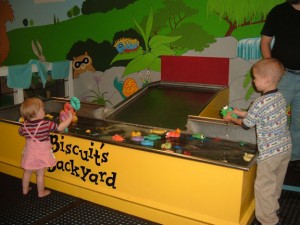 May God richly bless you!